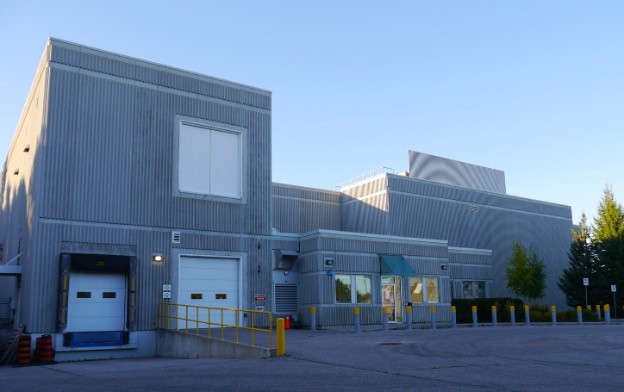 About  |  Materials  |  Requesting/borrowing  |  Contact
About Downsview
University of Toronto Libraries (UTL) at Downsview is our environmentally controlled high-density storage and preservation facility, in operation since 2005.  About 3.5 million items are stored here along with material from other Ontario university libraries as part of the Keep@Downsview service. 
Downsview's design and operational program are based on facilities at Harvard, Yale, and Ohio State Universities, as well as other universities in similar climates, with large research libraries. Visit our photogallery and watch a short video showing how books are processed for storage.
Visiting Downsview
The facility is not open to U of T students and faculty members, or the public; however, materials may be requested and delivered by daily courier to U of T campuses.
Materials stored at Downsview
Low-use books, journals, and audiovisual materials from all U of T libraries are transferred to Downsview weekly. These items are listed in our library catalogue.
Some archival materials from the University of Toronto Archives & Records Management Service (UTARMS), the Thomas Fisher Rare Book Library, the Media Archives, and the Music Archives are also stored at Downsview.
Keep@Downsview is a partnership of the University of Toronto, the University of Ottawa, Western University, McMaster University, Memorial University, and Queen's University. Its goal is to preserve the scholarly record. Learn more about Keep@Downsview.
Requesting/borrowing from Downsview 
Eligibility
Current U of T students, faculty, & staff may request Downsview items
Alumni borrowers & other users with library cards are also eligible to request Downsview items
Members of the public are ineligible for this service
How to request 
Users may request UTL items stored at Downsview via our library catalogue as illustrated below
Items requested to Robarts will be available within 1 business day. Turnaround time for items requested to other libraries varies. 
You must be signed in to see the requesting feature.
Clicking on the REQUEST LIBRARY PICK-UP link goes to a form that can be filled out and submitted
You will receive an email when your item is ready to pick up.
Pick-up locations are Robarts, Gerstein, Architecture, OISE, Music, St. Mikes (Kelly) Library, UTM, or UTSC libraries.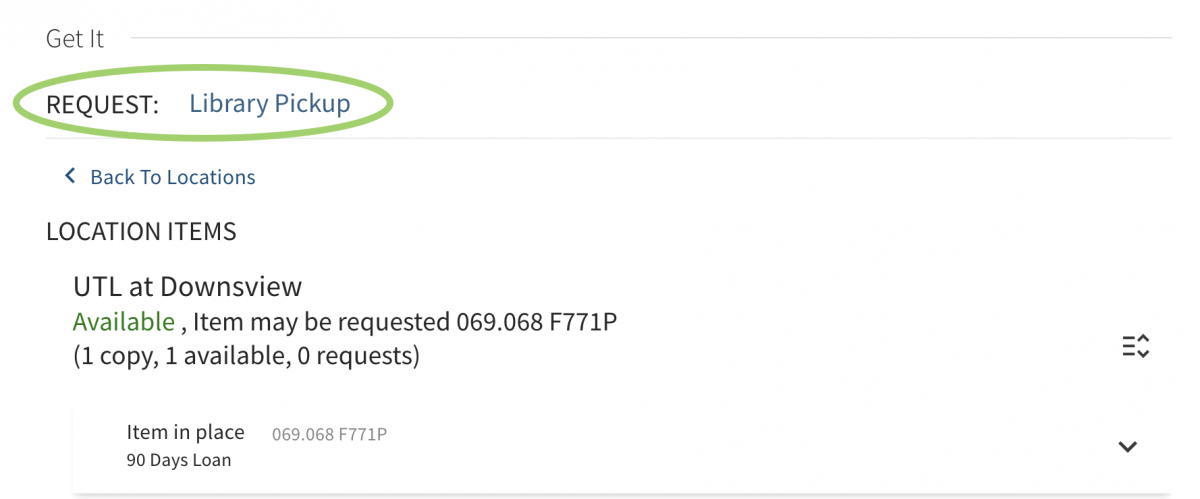 Articles from journals stored at Downsview
Journal articles may be requested via the Scan & Deliver service.
Archival materials at Downview
Archival materials stored at Downsview must be requested directly through their home archive, i.e., UTARMS, the Thomas Fisher Rare Book Library, the Media Archives, or the Music Archives.
Contact information
Email: utld@utoronto.ca
Telephone: 416-667-7733
Fax: 416-667-7738
–Last updated December 15, 2022