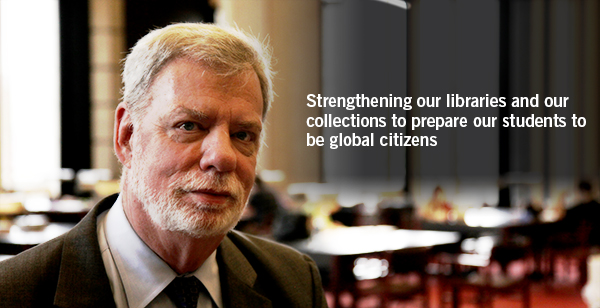 Welcome to the University of Toronto Libraries' resources for friends and donors
Every year, alumni, faculty and friends of the University of Toronto Libraries encourage us in our work on behalf of the U of T community and scholarship world-wide.  Indeed, the U of T Libraries have been the fortunate beneficiaries of attentive donors since the devastating fire of 1890 destroyed the original library and virtually all of our collection. Within a few years, the library was rebuilt and its collections entirely replaced, thanks to the magnificent response of donors around the world.
Today, the U of T Libraries ranks first among academic research libraries in Canada, and among the largest in North America.
During the Boundless: the Campaign for the University of Toronto, the U of T Libraries joined our colleagues throughout U of T in strengthening our libraries and our collections to prepare our students to be global citizens and meet global challenges. Whether you are considering making a financial gift, wish to donate books or rare items and collections, or you are considering making arrangements for the libraries in your estate plans, we welcome your interest in us. To learn more about our priorities, please visit the U of T Libraries' campaign page.
For a list of donors to the libraries during the Boundless Campaign, please see our Boundless Donors List.
You will find more information about activities at the University of Toronto Libraries in our publications, and we look forward to seeing you at our events.
Larry P. Alford
Chief Librarian