The University of Toronto formally opened the Robarts Common in September 2022.  The new five-story addition to Robarts Library was designed as a dedicated space for students.  A major expansion of the University of Toronto's Robarts Library, designed by Diamond Schmitt Architects and thanks to a transformational gift from Drs. Russell and Katherine Morrison.  Read more about the Robarts Common, its spaces and study rooms.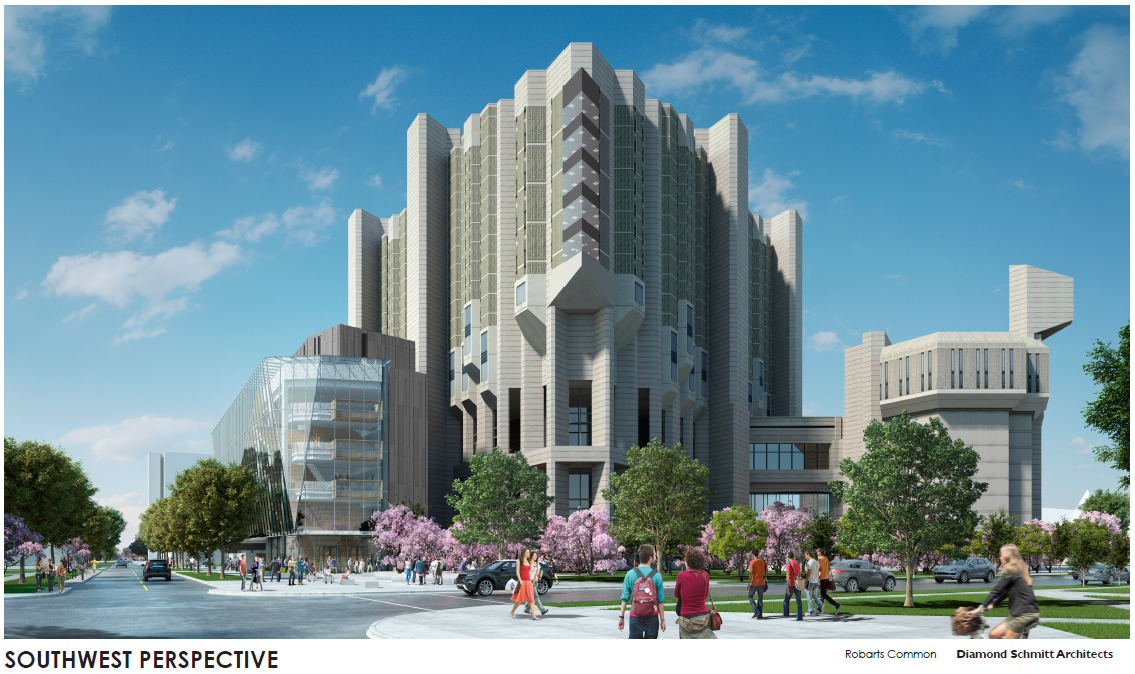 The Robarts Common is the signature project of the Robarts renewal initiative, and is one of the most important capital projects on campus today. The five-storey structure will add 1,200 new work and study spaces to Robarts Library. The new building will be flooded with natural light, making the overall environment more inviting, accessible and productive for students. This project is the final step in completing our vision to restore, revitalize and expand Robarts Library as a centre for research and learning.
The revitalization was conceived to provide Robarts Library users with improved facilities which allow them to conduct rigorous research and excel in their studies. The extraordinary philanthropy of Drs. Russell and Katherine Morrison, along with the generosity of over 1,000 individual donors, has allowed us to achieve this goal at last.
In 2021, we will welcome our students into an inviting new space filled with natural light, ample workspace, comfortable seating and full internet connectivity. During the construction no existing study spaces will be closed and disruption to library users will be kept to a minimum.
Construction updates
The Robarts Library Loading Dock is now closed for the duration of construction. Absolutely no access (entry or exit) to the loading area is permitted for any reason between the hours of 7 am and 5 pm without prior arrangement. For safety and security reasons no library staff or users will be able to enter or leave through the Robarts Loading Dock area. The north and south Loading Dock ramps will be hoarded off to prevent entry by vehicles and people. The accessible entrances will continue to be the 1st floor main entrance and the accessibility ramp off of Sussex Avenue.
Watch construction progress with our Construction Cam!