The Robarts Library renovations from 2008 to 2012 were the initial phase of the renewal of the John P. Robarts Research Library.
Phase 1
The first phase of renovations included:
Expansion and refurbishment of study spaces
Updating of electronic infrastructure
Opening of new special collections areas, such as the Map and Data Library and the Media Commons
Enclosure of Robarts Library porticos, adding additional study spaces

Funding
Crucial support from Drs. Russell and Katherine Morrison
Province of Ontario
University of Toronto Libraries
Individual donors
Phase 2
The second phase will be the addition of the Robarts Common.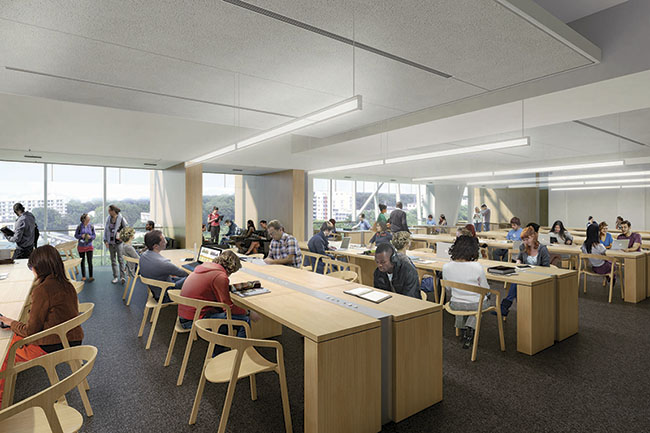 The Robarts Common will:
Add 1,200 study spaces
Increase Robarts Library's capacity to 6,000 seats
Provide 24/7 access to study space during peak times in the academic year
Features
Five-story free-standing addition to Robarts Library
Located on the west side of Robarts Library with an entrance on the south end
Connected to the library by bridges on floors two, three, four and five
Outdoor square with Wi-Fi access and seating amongst the cherry trees for studying in the warmer months
Funding
Lead benefactors Drs. Russell and Katherine Morrison
Over 1,000 individual donors
The University of Toronto
We began raising funds for the Robarts revitalization in 2008 and donors continue to support the project.