Trinity College Library (John W Graham Library)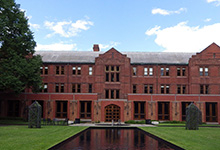 Contact
Location
6 Hoskin Avenue
Toronto, Ontario M5S 1H8
About
The John W. Graham Library serves Trinity's undergraduate Arts and Science students, the graduate Divinity students and faculty of Trinity and Wycliffe Colleges, Trinity and Wycliffe alumni/ae, and the greater University of Toronto and Anglican Church communities. Our collections are also open to the public for use in the library. 
Subject Areas
Humanities & Social Sciences, Theology
Collection Strengths
Subject strengths reflect the academic programs and interests of the two colleges: e.g., international relations, ethics, literature in English, philosophy, theology, Anglican Church history, and biblical studies.
Rare and Special Collections include: SPCK Collection, Strachan Collection, Churchill Collection, Richard Hooker Collection, Upjohn-Waldie Collection, and the G8 Collection.
Eligibility
All group members must be U of T students. Two of the rooms can only be booked by a Trinity or Wycliffe College student.
How to book:
By phone at (416) 978-5851 or in person at the Circulation Desk
Bookable:
Yes. First come first served when not booked.