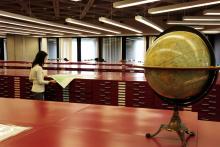 Address
130 St George St, 5th Floor
Toronto, Ontario M5S 1A5
416-978-5589
Map & Data Library Service Collection
Circa 5000 files of statistical, and research data, text files, and some spatial data files, primarily but not exclusively in the social and medical sciences. Also, major financial and economic databases.
Most data and statistical files are not listed in the library catalogue, but are searchable through the Map & Data Library's website.
Map and Geographic Information Systems (GIS) Collection
235,000 maps, thousands of aerial shots, 15,000 volumes, 22,351 microforms. Collection includes maps, atlases and GIS data providing world wide coverage on a large range of subjects. Books are support material on cartography, bibliographies, gazetteers, etc. Aerial photo coverage is primarily for greater Toronto.
All paper maps, books, and atlases are listed in the library catalogue. The GIS data collection can be searched through the Map & Data Library's website.
Our collection includes hundreds of geospatial and numeric datasets, hundreds of thousands of maps and aerial photographs, and more. We can assist you with finding maps and data and using GIS and statistical software.