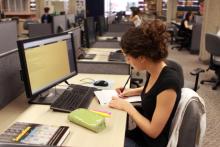 Address
113 St Joseph Street
Toronto, Ontario M5S 1J4
416-926-7114
Hours
The St. Michael's College - John M. Kelly Library is open but with restrictions. Online collections and services continue to be available.
This page was last updated on October 15, 2021
We are a rich resource for students, faculty, and researchers; home to several important research collections; and a quiet place where students can study.