On campus  | Wireless access  |  Remote Lab  |  Off campus e-resource access  
On campus spaces & workstations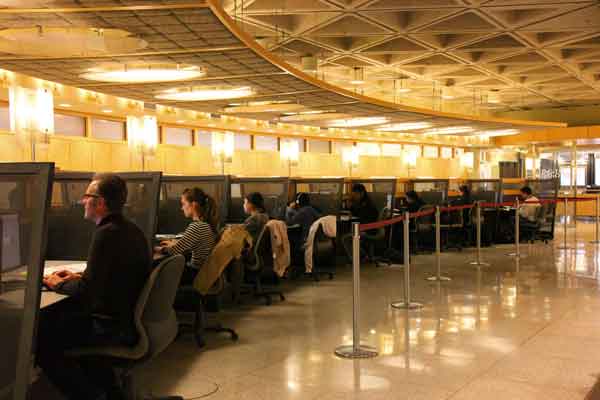 Saving files
Users must bring their own USB keys to save their files.
Files can be temporarily saved to the hard drive for emailing to yourself, or uploading to a remote location such as Quercus or the OneDrive storage available with UTmail+ accounts
Save your work frequently, and keep a backup copy of your work in a separate location – e.g., another USB key, a home computer.
The Scotiabank Information Commons is not responsible for lost data caused by hardware or software failures.
 Wireless access
Remote Lab
This Information Commons service allows current students and faculty users to remotely access computers in Robarts Library – 1st floor, and in the Map & Data Library
Standard software such as Microsoft Office 365, and specialized software is available  – this set of FAQs describes the service and available software.
Off campus access to electronic resources
For current University of Toronto students, faculty, and staff:
There is no off-campus access to UTL licensed resources for alumni borrowers or other external borrowers.