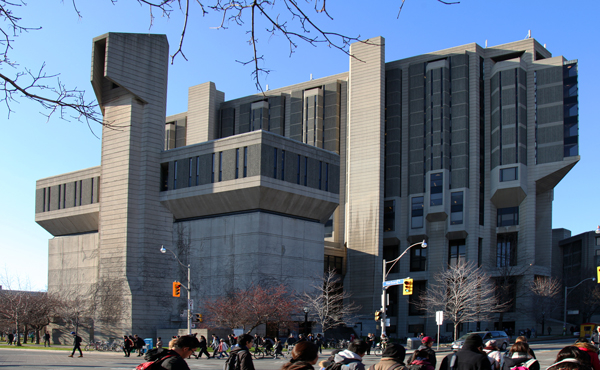 Contact
Robarts Library and Robarts Common
Summer hours
Monday May 1, 2023-Sunday September 3, 2023
Monday-Thursday: 8:30am-11pm
Friday: 8:30am-6pm
Saturday-Sunday: 10am-6pm
Fall hours
September 5, 2023 - April 30, 2024
Monday - Friday: 8:30am - 11pm
Saturday: 9am - 10pm
Sunday: 10am - 10pm
Extended Study Hours
Sept. 25, 2023 – April 30, 2024
Monday-Thursday: 11:00pm – 8:30am
Sunday: 10:00pm – 8:30am
Fall / Winter days of closure
Closed
Aug 7, 2023: Civic Holiday
September 4, 2023: Labour Day
October 9, 2023 – Thanksgiving
December 24-26 and 31, 2023 - December holidays
January 1-2, 2024 – New Years
March 29, 2024 – Good Friday
Location
130 St. George St.
Toronto, Ontario  M5S 1A5
About
The John P. Robarts Research Library contains the largest single collection of the University of Toronto Libraries.  Many departments and libraries are physically housed within the 14-storey complex.
Services, libraries and space in Robarts Library
Floor directories by services and by floor
Robarts book stacks Guide to floors 9-13
Robarts storage: material housed in storage can be requested through the library catalogue.  
Services
Libraries and spaces
Subject Areas
Arts, Humanities & Social Sciences
Collection Strengths
Arts, Humanities and social sciences, Government information
Eligibility
All currently registered U of T students can use these rooms for academic purposes or other University-related projects.
Bookable rooms include group study rooms in the new Robarts Common wing, which can be booked via the booking button.
Booking policies and codes of conduct are viewable when you log into the booking system.
Locations:
Robarts Common
Floors 2 – 5 contain 8 study rooms each.
Room capacity ranges from 3 –10 people per room
Robarts Library
Ground floor has 5 rooms which hold up to 8 people.
5th floor has 4 rooms which hold up to 8 people
Each of floors 9-13 have 4 rooms (Sussex 1, Sussex 2, St. George 3, and St. George 4) which hold up to 5 people.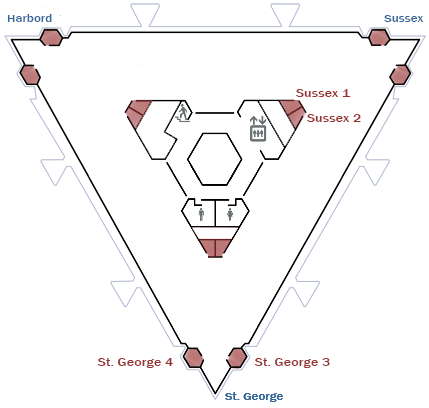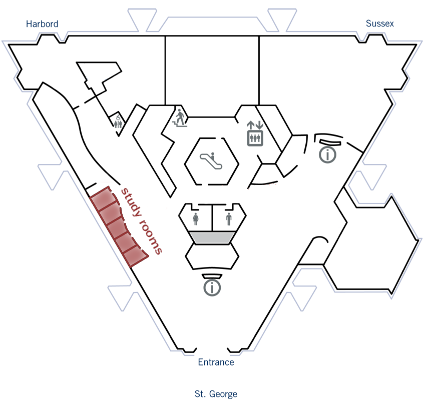 Bookable:
Robarts Library & Robarts Common
Robarts Library: 5 group study rooms on the ground floor, 2 rooms on the 3rd floor in the Media Commons, and 4 group study rooms on each stacks floor (9–13) can be booked in advance. All others are first come, first served.
Robarts Common: 8 group study rooms on each of floors 2 – 5. Capacity ranges from 3 to 10 students per room. Bookable through the same 'Book a Room' button.
Number of study rooms:
69 total, 25 are bookable
Special features:
Robarts Library
Wireless connectivity.
Ground floor rooms include TV monitors.
HDMI cables loans are available from the Course Reserves desk located in the Media Commons Library on the 3rd floor.
Robarts Common
A TV screen
An HDMI connector
A USB connector
USB charging ports
Dimmable lighting